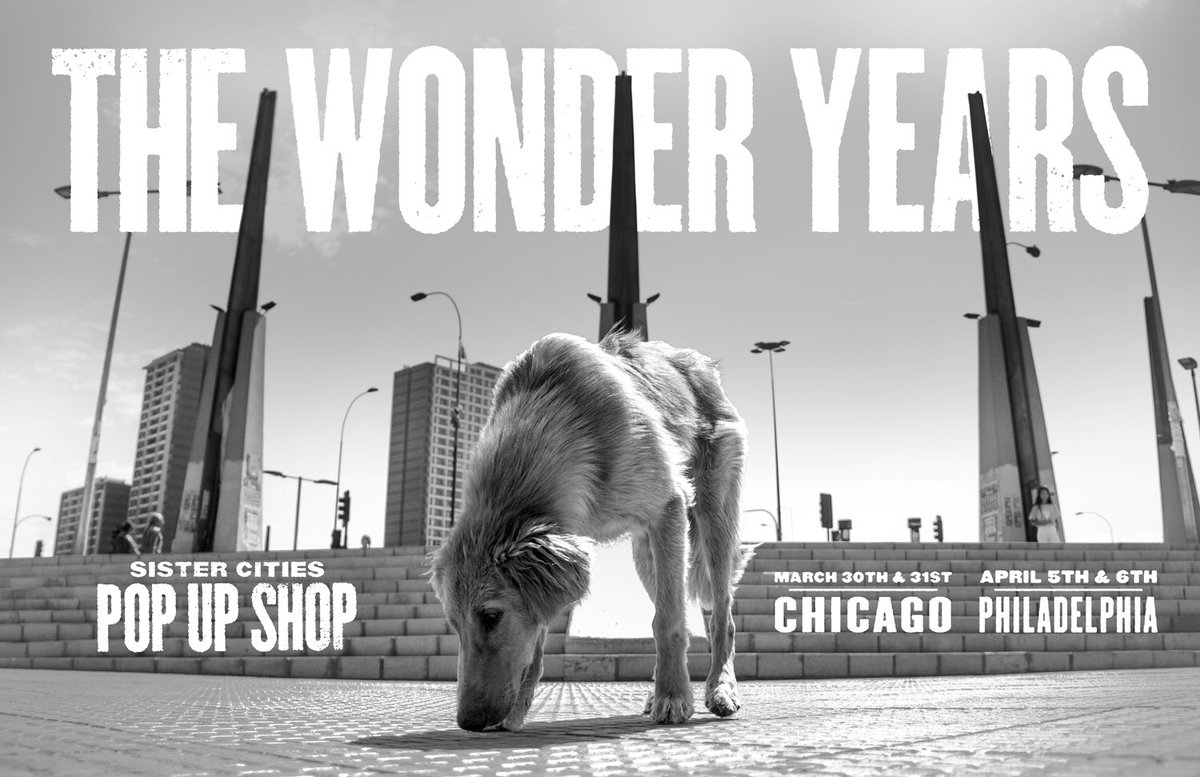 Chicago- 1330 N Milwaukee Avenue
March 30th | Shop and Gallery Hours- 3-6 | Event Hours- 7-10
March 31st | Shop and Gallery Hours- 2-6 | Event Hours- 7-10
Philadelphia- 1014 N Marshall Street
April 5th | Shop and Gallery Hours- 3-6 | Event Hours- 7-10
April 6th | Shop and Gallery Hours- 2-6 | Event Hours- 7-10
---
What happens during shop and gallery hours?
The shop and gallery are open to the public. Inside, you'll find exclusive merchandise, a photo booth, a tattoo artist doing Sister Cities flash and a gallery full of photos, art and writing from the Sister Cities book. A playlist curated by the band will be playing, copies of the book will be out to look through and the band and some guests will be making appearances throughout the day to say hello. We'll also be holding contests for some very rare Wonder Years items.
What happens during event hours?
The shop is briefly shut and reorganized to host an event each night. We'll have free drinks for you and we'll be kicking the night off with a listening party of Sister Cities in its entirety. Note cards will be passed out for you to write down any questions about the album that strike you while you listen. The band will be performing a stripped down set and then answer some of the questions you wrote. The event capacities are limited so be sure to secure your spot.
How do I get into the events?
Getting in to the events is simple. Come in to either shop, Chicago or Philadelphia, and buy any item.
Once you've paid for your purchase you'll have the option to be added to the guest list for that night's performance.
Space is extremely limited for these events! In Chicago capacity is limited to 100 people per night and in Philadelphia capacity is limited to 80 people per night.
How do we go about getting a tattoo?
DMug (you may know him from tattooing on Parahoy!) will be doing tattoos all four days from the below flash sheet of his original designs. Appointments will be first-come-first-serve. A sign up sheet will be available in-store. Pricing will vary based on size and placement.

What about this exclusive merchandise? We've got some cool stuff planned. Everything in the pop-up shops will only be produced this one time. We'll have everything from t-shirts and records to coffee and screen prints as well as a very limited number of one-of-a-kind jackets that we sourced individually and had embroidered. We'll post visuals of the exclusive items soon! Check out this sneak peek at some of the stuff we'll have at the shops including these one-of-a-kind, individually sourced and fully embroidered jackets, shirts, hats, long sleeves and sweatshirts. Coffee, posters, books, records and more are also on the menu!